NLRFD Promotes Two Officer and Hires Two New Firefighters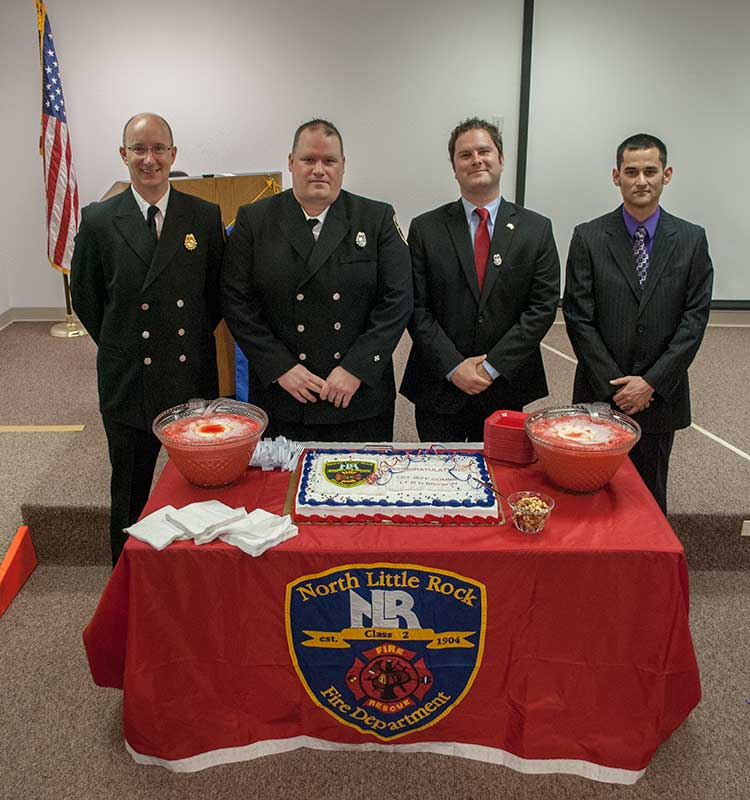 21MAY15 -- The North Little Rock Fire Department is pleased to announce the promotion of two of it's officers, along with the hiring of two new firefighters, at an official ceremony held on April 3rd, 2015. Pictured are (from left to right) Cpt Jeff Combs, Lt Dan Bryson, FF James Stanley and FF Michael Mitsunaga.
Cpt Jeff Combs was originally assigned as Lieutenant on Engine 7 in Lakewood on C Crew, where he served the Department as a Paramedic. With his promotion, he has been reassigned to Rescue 5 in Park Hill as Captain on B Shift.
Lt Dan Bryson worked formerly as a firefighter on Engine 3 in the Baring Cross community; with his promotion, he has been reassigned to Truck 7 in Lakewood on C Shift.
FF's James Stanley and Mike Mitsunaga were both hired from previous fire department backgrounds. Stanley was formerly with the Pine Bluff Fire Department, and Mitsunaga comes to the NLRFD from the Searcy Fire Department.
Both Stanley and Mitsunaga enjoy previous Union memberships, and have already become members of Local #35.