Confined Space Training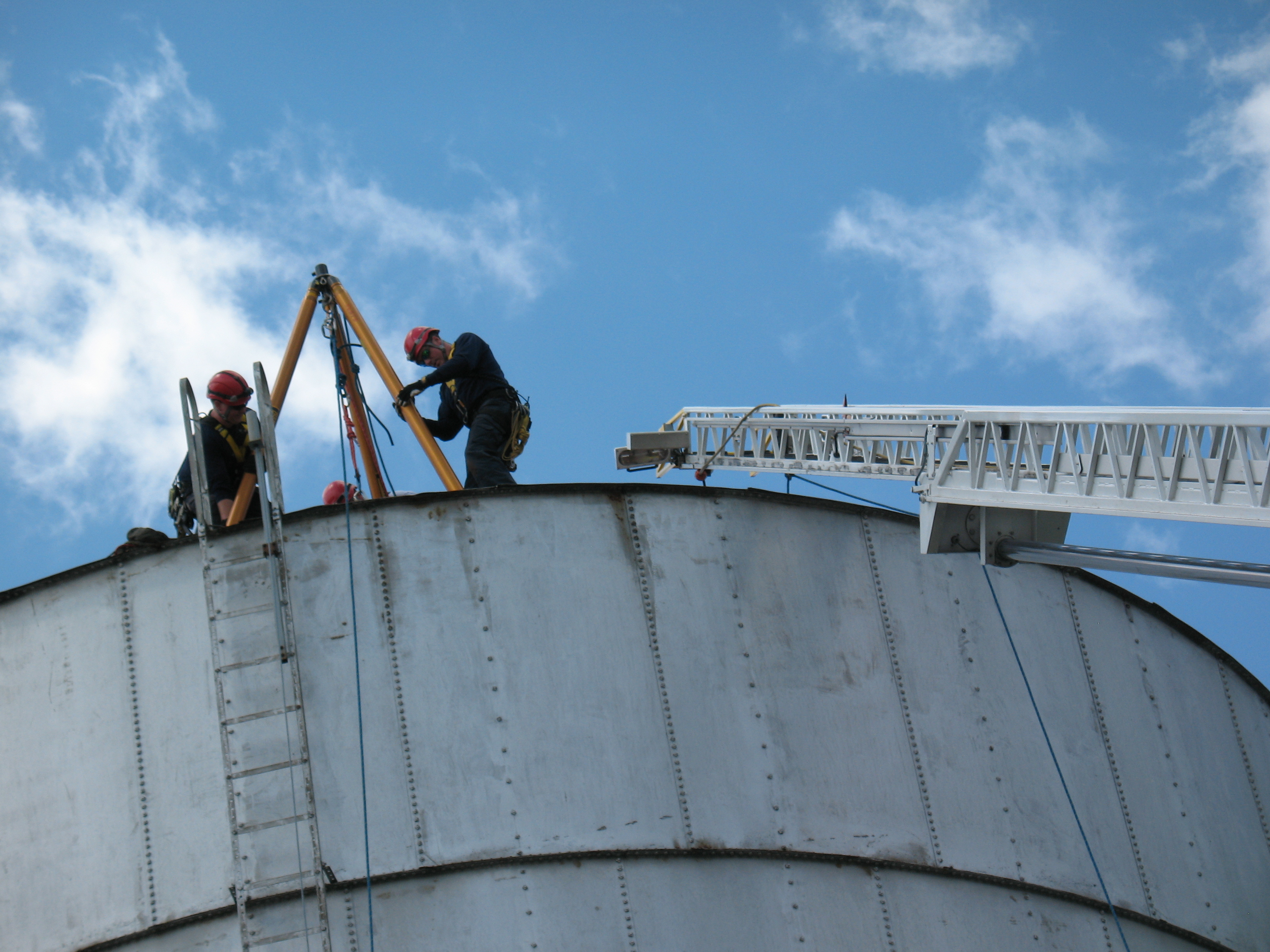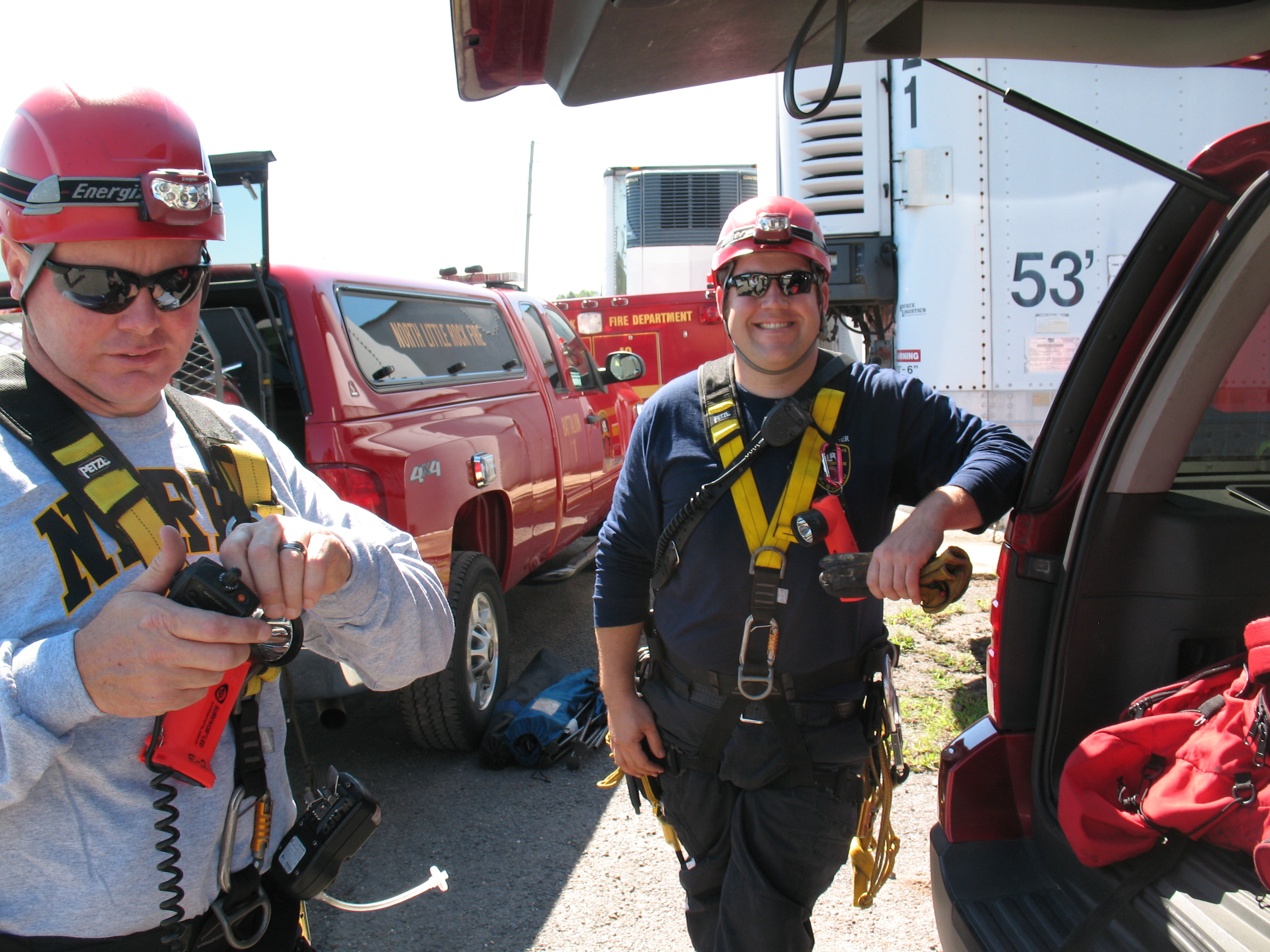 Photos from Confined Space Training conducted August 12th, 2014 at Arkansas Seed Company (12th and Cedar)
Local #35 Raises Money for Bikes for Kids
Dec 19, 2013 - Working with the Salvation Army, IAFF Local #35 raised $3,500 for it's annual Christmas Bikes program.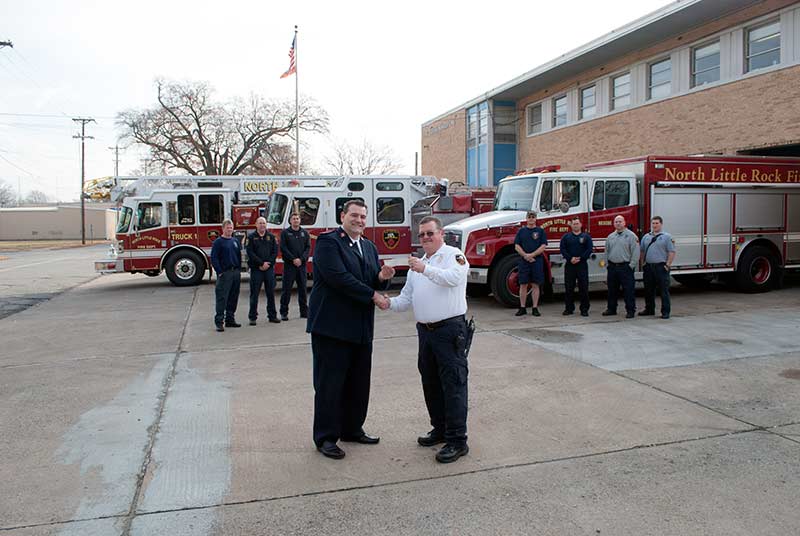 For over 10 years, Local #35 has raised money to provide bicycles to needy children for Christmas. Three years ago, Local #35 partnered with the Salvation Army's Central Arkansas Area Command to participate in their Christmas "Angel Tree" Program.
The Angel Tree Program accepts applications from pre-screened families in Arkansas for Christmas "wish lists" for their children. A combination of dedicated volunteers and generous contributions from the public are used to make these Christmas dreams come true. In Arkansas, over 5,000 children will find something under the tree that otherwise would not have been there, thanks to the Angel Tree program!
Local #35 is proud to participate in this program by collecting money specifically earmarked for bicycles; occasionally, we even receive bicycles themselves which are always welcome! (In 2011, while buying bicycles for the program, a customer in line behind us paid for an extra one right out of the box after she found out what we were doing! True Christmas spirit!) We are pleased to say that each succeeding year has seen even greater contributions.
It is important to know that all contributions go directly to the purchase of bicycles! There are no service charges, administrative fees, etc. Time, effort and gas used to make all of this happen are contributed by members of IAFF Local #35.
For more information about the Salvation Army's programs, either visit their website HERE or contact Captain Roger Glick with the Salvation Army.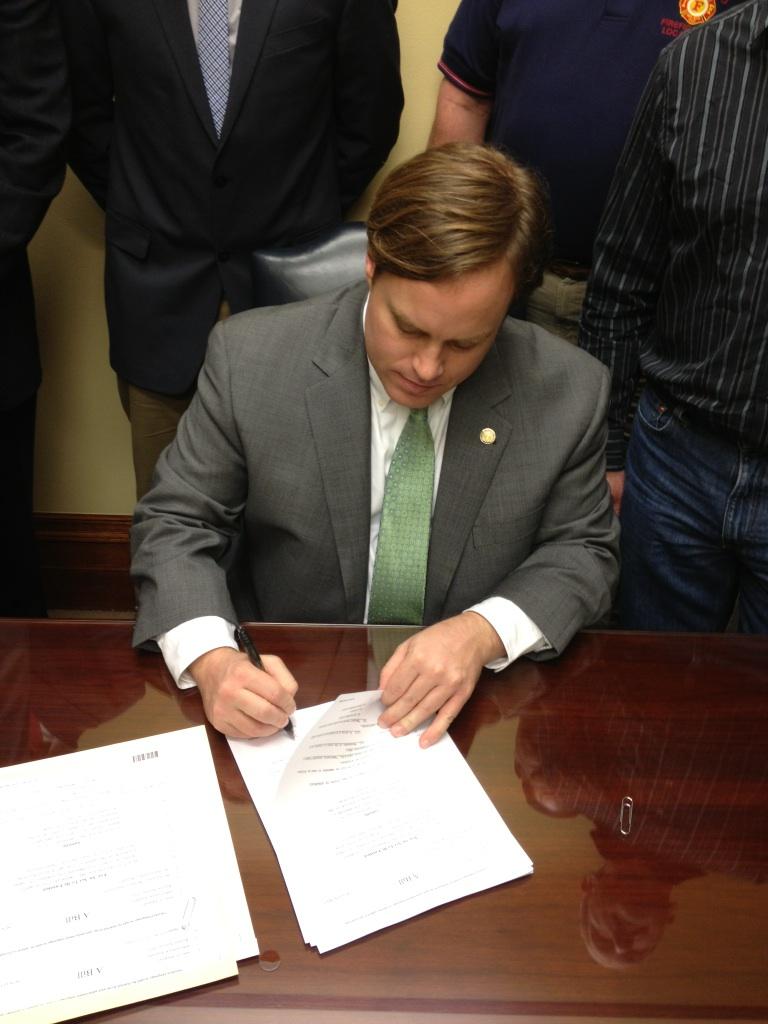 Working with the Arkansas Professional Fire Fighters Association, IAFF Local #35 met today at the Arkansas State Capitol.
Over 50 members of the APFF, representing municipal fire fighters from all corners of the state, rallied today at the Capitol to lobby for issues affecting fire safety and fair employment of the profession.
One of the key issues has been the introduction of a Bill to amend a portion of the Arkansas Code regarding Worker's Compensation claims for mental injuries. Under the current state law, Worker's Compensation claims for mental injuries can only be made when they include physical injuries. The current understanding of stress-related mental issues such as Post Traumatic Stress Disorder makes clear their need for treatment as serious life- and work-affecting injuries in their own right, outside of the scope of physical injuries.
Arkansas State Senator Jon Woods (R) has recognized this need and stepped up to sponsor the Mental Injury/Illness Bill. It is due to be filed in the next few days, and will then go to the House and Senate committees for review.
There are other issues that the APFF has brought to the 2013 Legislation.
HB1280, amending a loophole in a previous Act that prohibited the sale of certain novelty lighters, added "grill lighters" to the defined list. The potential for these lighters to be seen and used as toys by children is an issue that has hopefully been resolved. HB1280 has passed both the Senate and the House, and is on it's way to the Governor for signature.
HB1392 establishes a timeframe for Civil Service Commissions to certify promotional listings. Currently, there is no established timeframe. If passed, this Bill will set the certification period to 90 days after the completion of testing. HB1392 has cleared the House of Representatives and is now on it's way to the Senate for committee review.
HB1481 (the Firefighter Vacation Equalization Bill) will clarify a discrepancy regarding interpretation of the "work day" with respect to firefighters' vacations. A few municipalities have treated the firefighter 24-hour shift as three work days in this interpretation, which results in firefighters recieving less than 3 weeks vacation per year, as the law intended. Public Safety employees recieving the same "15 days" vacation per year get the full 3 weeks. The amendment will change the 15-day rule to "three calendar weeks" which will clear up the discrepancy. This Bill is currently filed and on its way to the Senate and House committees.
The Arkansas Professional Fire Fighters Association continues to work toward improving the working conditions of firefighters throughout the state; this in turn improves the quality of service provided to the public.
Local #35 Raises Funds for Arkansas Special Olympics and Annual Christmas Bike Program
IAFF Local #35 would like to extend a huge THANK YOU for all of the support from the North Little Rock public!
First, our annual Christmas Bikes Program:
Local #35 partners with the Salvation Army's ANGEL TREE Program. Money raised from generous donors from North Little Rock (and a few from outside the city) were contributed directly to the Salvation Army to provide bicycles for Christmas to children of economically challenged families who would not otherwise receive one. Children selected by the Angel Tree program have specifically requested these bicycles. It is important to Local #35 that everyone know that the funds raised are specifically used for these bicycles; there are no hidden costs or "administrative fees" paid with these funds!
Total contribution: $1,810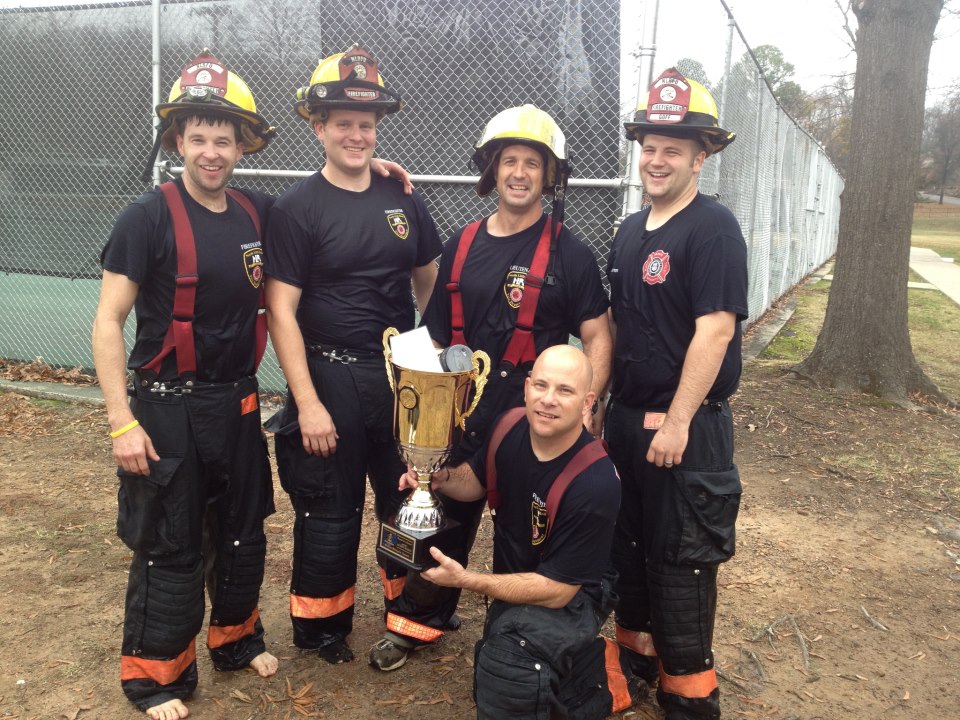 In addition to the Christmas Bike Program, Local #35 participated again in the NLR Polar Bear Plunge in December 2012. Our members froze their hoses off to raise the largest amount raised by a group at the event, $700. We are proud to continue to support Arkansas Special Olympics!
JOE SMITH WINS 2012 NLR MAYOR ELECTION
JOE SMITH WINS THE 2012 NLR MAYOR ELECTION.
IAFF Local #35 extends it's congratulations to Joe Smith in his new position as Mayor of North Little Rock beginning in 2013.
Because of our previous affiliation, Local #35 voted to endorse Smith's opponent, Tracy Steele. After a hard-fought campaign that resulted in a runoff vote, Joe Smith won the day earning a 55% of the votes for the position.
In the spirit of cooperation and working toward making a better North Little Rock, IAFF Local #35 looks forward to working with the new Mayor-elect in 2013.
Municipal League Attacks Firefighter, Police Pensions
From the Arkansas Democrat-Gazette, published on September 7, 2012:
At city league, firemen, police slam benefits cut
LITTLE ROCK

— The Arkansas Municipal League has irked police officers and firefighters by declaring its support for legislation aimed at reducing the cost of the Arkansas Local Police and Fire Retirement System to cities by trimming the retirement benefits of future members, officials representing police and firefighters told the system's trustees Thursday.

The league's annual convention adopted a resolution in June that said the cities lobby supports legislation "regarding the implementation of these options to help resolve the insolvency of some closed local police and fire pension plans," started before the Arkansas Legislature mandated that new uniformed personnel join the system, starting in 1983.

The options listed on the resolution include cities seeking more state and local funds, and "reduce current LOPFI cost, thereby making more funds available to support old plans by lowering the multiplier [used in calculating retirement benefits] for new hires, establishing a minimum retirement age of 55, and reducing or eliminating the COLA [cost of living adjustment]."

System members may retire with full benefits at any age with at least 28 years of service credit, at the age of 55 with at least 20 years of service credit, or at the age 60 with at least five years of service credit, said David Clark, executive director for the system.

The system's cost-of-living adjustment for retirees is 3 percent a year after a member has been retired for 12 months, he said.

Mark Hayes, general counsel for the league, told the system's trustees that there were "drafting errors" in the resolution.

"The intent was hopefully to start a proper dialogue ... to ensure that many of the folks sitting in the room right now can get a [pension] check five, 10, 15 years out," he said, referring to more than 50 police officers and firefighters at the meeting.

Hayes said the aim is for any changes in the cost of living adjustment for retired members, the multiplier for calculating retirement benefits, and the minimum retirement age to only affect new members of the system in the future.

But North Little Rock Police Chief Danny Bradley, representing the Arkansas Association of Chiefs of Police, said the league's resolution "caused quite a firestorm in our organization, and some of the other police and fire organizations in the state."

The system's retired members deserve the system's generous benefits that are "a recruiting tool" to hire quality police officers, he said.

The system includes 6,016 paid working members with an average age of 38.9 years and 11.7 years of service and an average annual salary of $45,341, and 2,367 retired members with an average annual benefit of $8,892 according to the system.

Local governments contributed about $63 million to the system last year, while system members chipped in $19.3 million, said Clark.

The system's investments were valued at $1.058 billion as of June 30 after earning an investment return of 2.5 percent over the past year, according to system investment consultant Larry Middleton of Stephens Inc.

The system's unfunded liabilities totaled $583.4 million as of Dec. 31, 2011, according to the system. Unfunded liabilities are the amount by which the system's liabilities exceed an actuarial value of the system's assets. The system's projected payback period is 30 years.

Roger Smith, a former state representative who represents several police and firefighter groups, told the trustees that, "It is never a good idea to take from somebody else's pension money ... to take from LOPFI to help support the old [police and fire pension plans]."

The Arkansas Local Police and Fire Retirement System is better funded than the old police and fire pension plans partly because the system's cities are required to pay enough money to the system to keep it actuarially sound, he said.

There were 143 closed local police and fire retirement plans with investments valued at $332 million and unfunded liabilities totaling $301 million as of Dec. 31, according to Clark and a report from the actuarial firm of Carriero & Associates of Little Rock.

The actuary said these plans have 63 working members with a total annual salary of $495,473 and 2,999 retired members with total annual pensions of $40.6 million, and local governments contributed $20.6 million to the plans last year.

Smith said voter approval of a proposed constitutional amendment on the general election ballot - Issue No. 2 - would help cities with closed police and fire pension plans.

Among other things, the proposed amendment would allow a legislative body of a city or county, with the consent of a majority of voters in an election, to authorize bonds for retiring the local government's unfunded liabilities for a closed local police and fire pension plan and a local sales tax to pay for the bonds.

The trustees later appointed trustees Beverly Lambert and Tim Webb to a subcommittee with two members of the Arkansas Fire and Police Pension Review Board to review possible options. Among other things, the board is charged with enforcing state laws governing funding of local and fire police pension plans.

Clark said seven local police and fire pension plans still are projected by the board to be insolvent within the next 10 years if local authorities don't supplement or restructure the funding methods for the plans. These plans are the Arkadelphia, Benton, DeWitt, Fayetteville, Pine Bluff and Russellville fire plans; and Pulaski County Fire Protection District 5, which covers the Sherwood area, he said.

Arkansas, Pages 11 on 09/07/2012

Print Headline: At city league, firemen, police slam benefits cut
Fire Dept Gets New Training Equipment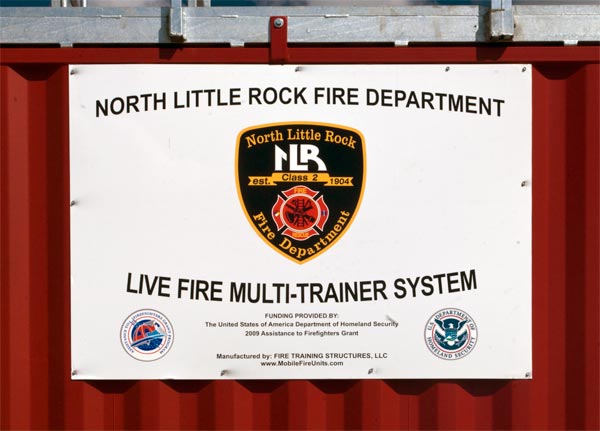 The North Little Rock Fire Department took posession of a new training equipment system in July of 2011.
Wholly funded by federal grant money, the Live Fire Multi-Trainer System will provide firefighters in the NLRFD as well as surrounding Departments the facilities and equipment needed to learn and sharpen the skills of their craft.
Built around two full size metal trailers with attached catwalks and platforms, the System features many specialized training elements.
At the core are the trailers themselves. They are enclosed spaces with custom configurable walls which permit the trainer to set up a wide variety of different mazes. When filled with burning material and smoke, these very closely simulate the smokey, hot and completely dark conditions of the interior of a burning house. This is the closest thing to reality for training firefighters to operate in "live fire" conditions.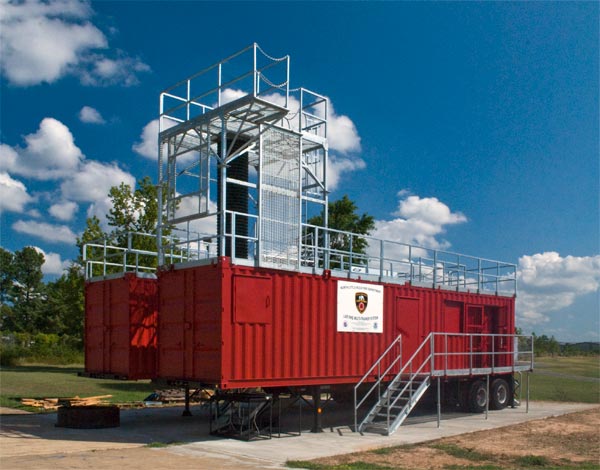 In the 1990's, the NLRFD trained in live-fire exercises by burning down derelict homes, training inside of them while they were burning until the structures had sustained enough damage that they were no longer safe... even for training. They were then allowd to burn down or were bulldozed.
The practice of intentionally burning abandoned homes for training was discontinued in light of new environmental regulations. Meeting these regulations prior to burning was extremely cost-ineffective. The practice was discontinued.
Along with live-fire exercises, the Multi-Training System allows firefighters to practice additional non-fire related skills like high angle rescue, confined space rescue, forcible entry, ventilation practices, and other necessary skills of the trade.
| | | |
| --- | --- | --- |
| | | |
| | | |
| | | |
Several members of Local 35 donated their time recently to help out at Camp Sunshine, a four-day-long camp for children who have suffered burn injuries. Lt. Chris Patton, Lt. Alana Merritt and Firefighter Brian Thomas volunteered as camp counselors. Lt. John Miller and Lt. Mark Wittenburg worked behind the scenes as volunteers. Lts. Miller and Chris Patton are also on the planning committee of Camp Sunshine, working year-round to plan each summer's session.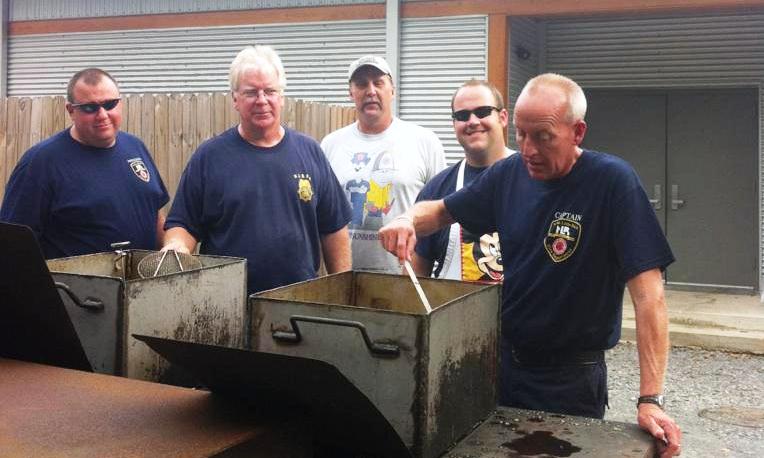 On the second day of the camp, members of Local 35 cooked fish, hushpuppies and French fries for the entire camp. Those volunteers were Tom Cross, Capt. Gerald Tucker, Firefighters Jeremy Reed and Sean Walker.
Fifty-two campers attended Camp Sunshine this year, ranging from ages 3 to 25. Most have Arkansas connections, including living in Arkansas and being treated at Arkansas Children's Hospital's burn unit.

In addition to Arkansas firefighters, many nurses who worked first-hand with the campers in the early stages of their recovery. The camp is located at Camp Aldersgate in Little Rock, and provides four days of crafts, games, contests, a dance and field trips and allows burn victims to meet and bond with people who understand where they have been. The camp is in its 22nd year and is funded, in part, by firefighter unions from around the state.
-- akm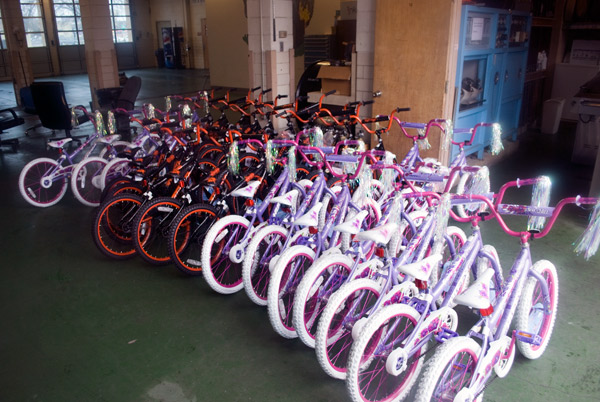 Partnering with the Salvation Army, Local 35's Christmas bike program is underway. The Local has collected over $2,600 dollars and has already purchased 42 bikes for children and received additional donations of bicycles for a total of over 46 bikes this year!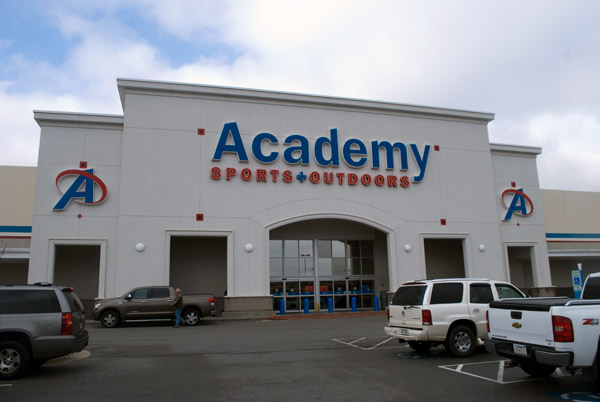 Members of Local 35 worked hard to secure donations and purchase the bikes, which were then delivered to the Salvation Army warehouse in Little Rock to be distributed this season through that agency's Angel Tree Program. By filling out an Angel Tree card detailing what they'd like for Christmas, children in North Little Rock and the Pulaski County area who specifically asked for bikes this year will be matched by age to the bicycles donated by our Union.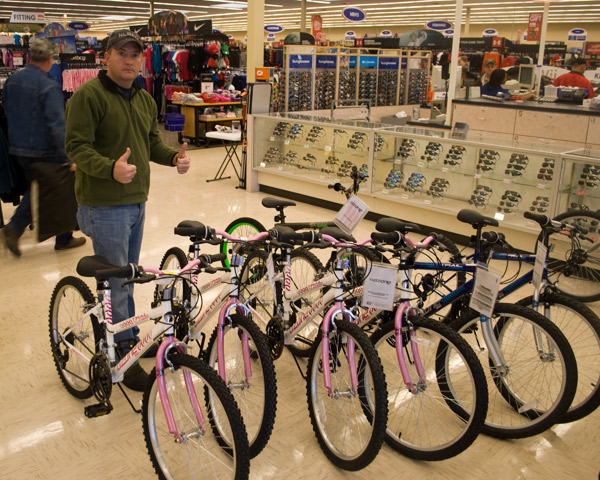 According to Secretary Alan Tetkoskie, just over $500 dollars remains uncollected. If money comes in after the Union has purchased this year's bicycles, the late-arriving money will be held for next years program. Contributors who donated this year included North Little Rock Fire Department members, city employees, and citizens. Local 35 would like to publicly thank the City Council of North Little Rock for allowing us time to announce collections during recent council meetings. We also thank Paul Myrick and Bob's Pawn Shop for serving as collection points and North Little Rock Fire for providing us with a place to store the bikes.

(Note: All money collected by the Union for the purchase of bicycles goes toward the cost of the bikes.)
-- AKM
UPDATE NOV 15, 2011: Both of the taxes were defeated, by a very close margin.
First and foremost, we want the citizens of NLR to rest assured that the NLR Firefighters totally respect the outcome of the vote and the opinion of the voters. As always, we will continue to provide the best possible service and support to our community that was can. We've become very very skilled at "making do with what we've got" and will continue to do so!
We would also like to take the time to thank the citizens who came out to vote; it is privilege as well as a right to do so, and voting is the most effective way for each citizen to have a say in how his community is managed.
We have heard quite a few reasons as to why voters would select NO on these initiatives, and all of them are very strong and valid reasons. Local #35 is satisfied that no one ever voted NO because they felt like public safety didn't deserve the funds.
Citizens of North Little Rock:
The International Association of Fire Fighters Local #35, North Little Rock, by vote of it's membership, endorses and supports the upcoming tax initiatives.
Resolution 7926 proposes a permanent 1/2 cent sales tax that will be used to fund critically needed public safety shortfalls, including the purchase of a new fire station with equipment and 13 additional firefighters; the hiring of 10 police officers to fill positions that have been left vacant; a replacement program for the aging police car fleet; and funding a necessary upgrade to the current emergency services radio system.
Resolution 7927 proposes a temporary 1/2 cent sales tax that will last five years and will fund bridge and road replacements, Ward improvements, upgrades to our parks, and economic/business improvements that will include a business park area which will potentially be used to host the State Fair.
Local #35 sees the first resolution as an immediate solution to needed public safety issues that have been on a steady decline in the past decade. We also feel that the second resolution will provide the City with more revenue-producing economic opportunities which, when brought to fruition, can be used to further improve services provided to the City and it's citizens.
We are certain that the City Administration would agree that there have been many issues and differences between the City and Local #35. However, at this time, Local #35 believes that the passage of these two resolutions will ultimately provide the citizens with a better served and brigher North Little Rock.
Officers of Local #35 will be at the public forum at the Willow St Police/Fire Training Facility on Thursday, November 3rd at 5:30 PM and will be happy to answer any questions anyone might have for us regarding the tax initiative.
Four Union members from IAFF Local #35 attended this year's Camp Sunshine, held August 18-21.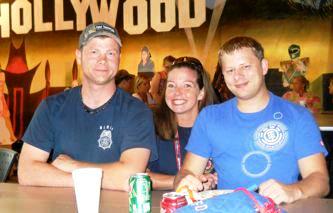 Union Vice President Jon Miller and Trustee Chris Patton volunteered year-round as part of the Camp Sunshine committee that helps plan the camp and its activities each year; Patton also volunteered as a counselor to one of the burn victims attending the camp. Two other Union members, Alana Merritt and Brian Thomas, volunteered as counselors. As counselors, each person is paired with a camper of the same gender for four days and three nights.
Patton, Merritt and Thomas from NLRFD Local #35
Camp Sunshine brings together young burn victims throughout Arkansas to Camp Aldersgate for a half week each August, providing several days of activities, bonding, and learning. The children's burns range in severity and are in varying stages of healing. Marking the 20th anniversary of the camp, several counselors were recognized as former campers who'd returned as counselors. Other counselors included burn victims who had not attended Camp Sunshine as campers but who had heard of the camp through other means, nurses, and firefighters. In addition to NLRFD Local #35 Union members, firefighters from Jonesboro, Mountain Home, Springdale, El Dorado, Little Rock, Hot Springs and Benton assisted as staff, volunteers and counselors.
To celebrate the 20th anniversary, Camp Sunshine chose the celebratory theme of "Hollywood" for this year's camp, and female campers were treated to make-overs, professional hairstyling, and free formal dresses tailored on-site. Male campers had the choice of wearing suits brought from home or wearing one of the complimentary "tuxedo" shirts provided by the Camp. A visit by the Humane Society's horse "Lucky Sunshine" allowed the campers to see up-close the local celebrity, whose near-fatal wounds have healed but have left dark scar tissue across his body. The horse, who was dragged down a highway for nearly two miles after falling out of a trailer driven by a drunk driver, was rescued by the Humane Society and saved by surgeries and skin grafts—something many of the campers are very familiar with.
The kids also enjoyed a trip to the Hot Springs Crawler Park, where volunteers with off-road vehicles took campers and counselors on an hour-long trek through the scenic park, followed by lunch of grilled hot dogs and hamburgers.
To volunteer a few hours, or to become a counselor next year, contact Lt. Jon Miller or FF Chris Patton for details.
Article by AKM
[Editor's Note: Arkansas Camp Sunshine is wholly organized and funded primarily by firefighters across the state, Nurses and Doctors from Arkansas Children's Hospital, their family members and even former burn victims. Costs to run the annual camp are obtained by fundraising projects. NLR Local #35 contributed $4,000 this year, proceeds raised at their annual BuzzBQ event.]