Local #35 Sends Four Members to Camp Sunshine
Updated On: Sep 251, 2012
Four Union members from IAFF Local #35 attended this year's Camp Sunshine, held August 18-21.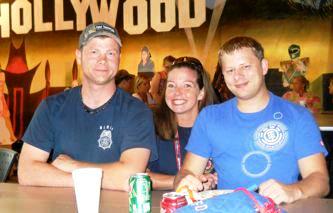 Union Vice President Jon Miller and Trustee Chris Patton volunteered year-round as part of the Camp Sunshine committee that helps plan the camp and its activities each year; Patton also volunteered as a counselor to one of the burn victims attending the camp. Two other Union members, Alana Merritt and Brian Thomas, volunteered as counselors. As counselors, each person is paired with a camper of the same gender for four days and three nights.
Patton, Merritt and Thomas from NLRFD Local #35
Camp Sunshine brings together young burn victims throughout Arkansas to Camp Aldersgate for a half week each August, providing several days of activities, bonding, and learning. The children's burns range in severity and are in varying stages of healing. Marking the 20th anniversary of the camp, several counselors were recognized as former campers who'd returned as counselors. Other counselors included burn victims who had not attended Camp Sunshine as campers but who had heard of the camp through other means, nurses, and firefighters. In addition to NLRFD Local #35 Union members, firefighters from Jonesboro, Mountain Home, Springdale, El Dorado, Little Rock, Hot Springs and Benton assisted as staff, volunteers and counselors.
To celebrate the 20th anniversary, Camp Sunshine chose the celebratory theme of "Hollywood" for this year's camp, and female campers were treated to make-overs, professional hairstyling, and free formal dresses tailored on-site. Male campers had the choice of wearing suits brought from home or wearing one of the complimentary "tuxedo" shirts provided by the Camp. A visit by the Humane Society's horse "Lucky Sunshine" allowed the campers to see up-close the local celebrity, whose near-fatal wounds have healed but have left dark scar tissue across his body. The horse, who was dragged down a highway for nearly two miles after falling out of a trailer driven by a drunk driver, was rescued by the Humane Society and saved by surgeries and skin grafts—something many of the campers are very familiar with.
The kids also enjoyed a trip to the Hot Springs Crawler Park, where volunteers with off-road vehicles took campers and counselors on an hour-long trek through the scenic park, followed by lunch of grilled hot dogs and hamburgers.
To volunteer a few hours, or to become a counselor next year, contact Lt. Jon Miller or FF Chris Patton for details.
Article by AKM
[Editor's Note: Arkansas Camp Sunshine is wholly organized and funded primarily by firefighters across the state, Nurses and Doctors from Arkansas Children's Hospital, their family members and even former burn victims. Costs to run the annual camp are obtained by fundraising projects. NLR Local #35 contributed $4,000 this year, proceeds raised at their annual BuzzBQ event.]